From SnesLab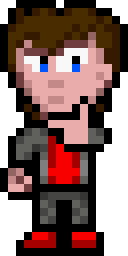 The Canadian user Daizo Dee Von, age 22, is the main creator of 100 Rooms of Enemies alongside Mellonpizza, and also the head director of the Mushroom Kingdom: Beyond the Worlds SMW Hack series (Krack The Hack, P-switch, Daizo's Journey, The Silo). He is also a YouTube let's player/animator/song composer/level creator most famous for his soundtrack uploads, his DKC Cartoon Song Extensions, and his let's play of Hammer Brother Orange Version. He mainly does let's plays of ROM Hacks on YouTube and also streams on Twitch on occasion.
Current list of important events:
Contributed to JDCGames Collab with two levels in 2013.
Released P-switch: The Legendary P-switch Void Demo in 2014
Contributed to COLLAB with 1 level in 2014 and revamped it himself in 2014.
Released 100 Rooms of Enemies technically alongside Mellonpizza in 2014. v2.0.0. was submitted in 2015 after rejection.
Helped with SMW Central Graphics Remoderation back in 2015.
Contributed to JUMP with 6 levels back in 2016.
Released Krack The Hack alongside Mellonpizza in the beginning of 2019.
Contributed to JUMP½ with 1.15 levels, released on 4/20 in 2019.
Released Mute's Christmas Quest alongside Chaser the Ultimate Gamer/Scooter102089 on July 7th 2019.
Won SMW Central's "Halloween Level Design Contest" with ALPHA SPHERE on the November 26th 2019 (Release date was November 12th, 2019).
Created the One Year Anniversary banner for SnesLab's first birthday! The fonts and how the banner is formatted is a reference to the boxart logo of Journey to Silius.
Released ALPHA SPHERE: Director's Cut on January 7th 2020 during C3.
Released a CLDC 2020 Entry on May 24th 2020.
Contributed to YUMP2 with 1 level, the title screen logo, and sausage groove overworld graphics on July 4th 2020.
Released Top 10 Worst SMW "Daizo" Levels on July 6th 2020. This marks as Daizo's first countdown since Top 5 Best Halloween Hacks.
Released R-ACK on January 11th 2021. This marks as Daizo's first successful full-on collaboration thanks to his new group "Team JANK"!
Released Super Mario World Challenges publicly on September 25th 2021.
Released Krack's Kafe: Because They Kicked Me Out! publicly on December 14th 2021 alongside amHunter, EvilGuy0613, Farolicious, and Scooter102089 under the team name "TEAM AFORETIMES".
Got 9th Place in "Make a Good Level 4" with the entry "SUMMONED" alongside Farolicious.
Finished Let's Plays/Let's Streams
Cringe List
SFW List